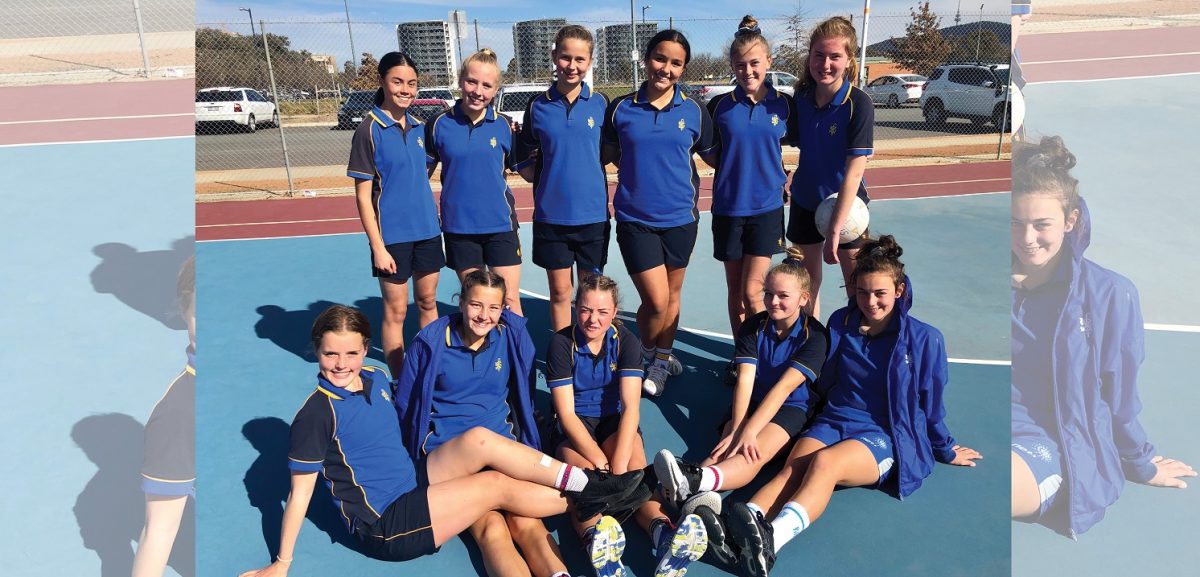 Active and Achieving
August 19, 2019
Welcome back to term 3! Once again we have some exciting sporting news to share with you all!
Rugby Union

Lekani Mpaso 8P was in the U14  ACT Brumbies rugby team that recently participated in the NSW Junior Rugby Championships held in Orange over the Queen's Birthday long weekend. The ACT team performed very well, ending up in second place after losing in the tight grand final match to Gordon Rugby. Great Job Lekani!

Last term, some year 9/10 boys competed in the Brumbies union 10s competition. The boys came out undefeated and all played to a very high standard. We also had two 7/8 boys teams who competed, one also came away as winners of the tournament, and both teams showed great sportsmanship and encouragement to each other. We are so proud of our boys!
Athletics

Charlotte Rauraa is the Youngest State Athlete to Achieve all 4 disciplines in Throws selection (Discus, Javelin, ShotPut and Hammer) for 3 National Championships and has gained her Australian Athletics Official Level 1 and almost completing her National Level 2 practicals for Throws, Charlotte celebrates her 16th National Squad selection respectively for 4 different Throw disciplines. This is an awesome achievement and we wish her luck at upcoming events.
Martial Arts

Dylan Wilson in year 7 competed at the Cool Climate Classic Taekwondo Championship on July 20 and 21. Dylan got six medals over the weekend! Three gold medals for poomsae and one silver! One of the golds was for the interstate competition. He then got silver and bronze in sparring where he unfortunately got injured and had to withdraw for the remainder. Fantastic job Dylan!
AFL

SFX had a great representation at AFL Nationals this year, with Jorja Simpson captaining the girls' side, playing alongside SFX girls Ella Woodward, Eliza Roberts and Ashlyn Walters. James White and Angus Chiswell also attended, playing their hardest for the boys' ACT side. These students travelled all the way to Launceston, Tasmania and whilst maybe didn't get the result they were after, they had a great time away and learnt a lot from the experience.

Last week our students participated in the UNSW Canberra Year 9/10 School Cup. All students played extremely well, with the girls' team winning the Cup and the boys' team narrowly missing out. Congratulations to all the students.
Hockey
This term we had three students head to Newcastle for Hockey nationals, a side that was co-captained by SFX Students Josh Carter and Olivia Holgate. Aidan Smith travelled with Josh and Olivia, and they had a great start to the tournament, beating SA 5-2. We can't wait to hear how the rest of the week went! Josh Carter was also selected for the Australian team after his outstanding performance. We wish him luck as he travels to south Africa next year.
Netball
Carys Musolino in Year 8 has been selected in the National Capital Netball Academy Team to participate in the Singapore International Youth Netball Challenge from 21 November – 02 December 2019. Carys should be so proud of such an achievement, and we wish her all the best in Singapore later this year.
Congratulations to our Year 7/8 girls who competed in the Northside netball championship last week. They were undefeated and are now the Northside champions. The team will now compete in the ACT competition later in the term.
We want to hear from you
We love to celebrate students' success, if your child has any upcoming tournaments or has achieved well, please pass on news and photos to  Jessica.cooper@sfx.act.edu.au