Seeking research participants
June 27, 2022
University of Canberra are seeking participants for Head Lice Treatment trial
Do you or your child suffer from head lice? You may be eligible for FREE treatment as a participant in this research study.
Researchers at the University of Canberra are trialing a new natural topical treatment shown to kill head lice and eggs rapidly in pre-clinical studies.
You are eligible if:
Aged 5-55 years
No known history of irritation or sensitivity to malathion, essential oils, or other components of the test product, pediculicides or hair care products
What is involved?
3 in-person appointments at the University of Canberra Health Clinic, Bruce, across a two-week period.
Telephone follow ups during the study.
Participants will receive:
Free treatment
A ticket to a lucky draw to win an iPad.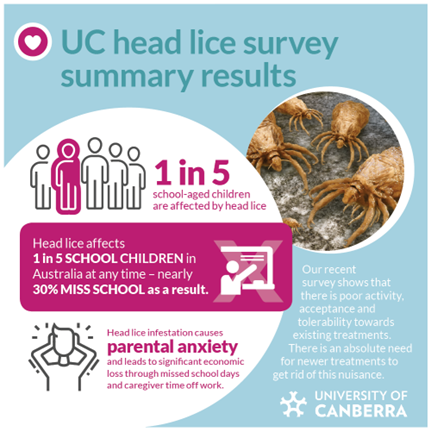 Book an appointment today: https://calendly.com/headlice-research-uc/head-lice-clinical-trial-appointment
Contact the study team via: headlice.research-uc@canberra.edu.au
Phone: 0466346532