SFX Competes in College Girls' League Tag
March 29, 2019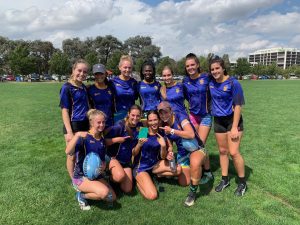 By Abbey Kennedy
On Thursday 14th March, SFX competed in the College Girls League Tag Competition. With this being the last year for the girls to compete, they were keen to get onto the field and win the tournament.
The day consisted of six games, where the top team of each pool of teams played each other in the Grand Final.
The girls had gone through the day undefeated without conceding any points, which led them to the Grand Final.
They faced Erindale College in the big dance. The girls felt nervous as they knew that Erindale are renowned for their sporting ability. The game started off tense, with SFX conceding their first try for the tournament.
Not too phased, the girls pulled together and with some quick thinking from Maggie and Adol, we hit back straight away. The game see-sawed for what seemed like forever, until Sara Lang broke the line to score the winning try, moments before the final bell.
The girls had a great day, displayed sportsmanship and true friendship. It was a pleasure to take them.
Congratulations to the team on a great achievement and for putting Mrs Kennedy in contention for Coach of the Year 😉