Sport Update
May 6, 2021
ACT Touch Football Finals – Thursday 4 March
 7/8 Boys' Touch Team
 Coach: Mr Stormon
 Players: Max Gillespie, Connor Platt, Sam Moran, Harry Woodward, Will Connelly, Charlie Sturt, Riley Hansen, Sam Simpson, Sam Green, James Lum, Riley Church
 Senior Coaches: Jeb Smith and Hayden Tunney
After scraping through to the final's day in the Northside competition, the 7/8 boys turned up with a great mindset. The boys played far better as a team and were unlucky not to win more games on the day with one win and four losses. On the final's day, Riley Hansen and Riley Church led from the front with their actions and support of the team. We also saw some individual brilliance from Sam Green and Will Connolly! A huge thank you to the Senior Coaches Jeb and Hayden who supported the boys all day, and to Mr Sicily for an important intraschool warm up between the 9/10's and the 7/8 boys.
7/8 Girls' Touch Team
Coach: Mr Gibson

Players: Ruby Sciacca, Clare Durbidge, Hope Seselja, Sylvia Gonzalez, Tulli Hansen, Layla Raadts, Haylee Scholes, Ashlia Meli, Haley White, Ella Panagiotopoulos, Skye Hunt, Sienna Bryant, Ella Van Den Heuvel
Senior Coach: Brooke Arrow
At the end of last term, the champions from the Northside 7/8 Girl's division sought territory domination at the ACT Schools Touch Football Finals. The day started with some ups and downs, with the girls not playing to their full potential and drawing with Merici. After some quality leadership from our Year 8 girls, in particular Ella Van Den Heuvel, the girls wouldn't drop a game! They played some really good Touch Football and made their parents and coaches very proud.
The girls went on to beat Melrose comfortably in the final and become the state champions. A huge effort, congratulations girls!

9/10 Girls' Touch Team
Coach: Miss Hammond

Players: Bailey Weinman, Amber Prins, Sally Kiss, Sarah Blackwell, Taeya Hawke, Carys Musolino, Katie Hawke, Molly Stocks, Tahlia Arrow, Mikaela Rodda, Jada Lamond, Hannah Fitzpatrick
Senior Coach: Ashlyn Walters
Runners up! The 9/10 girls had a great start defeating Merici in a close game that kept them on their toes. This game was followed by a convincing win over Mackillop, and another close game against Alfred Deakin in the semi-final! There was some great teamwork, and a bit of razzle dazzle from dummy half scooting through to score some great tries. The teamwork and combined effort saw the girls get through to the grand final where they played against Melrose – while they pushed the opposition, the final result was unfortunately not in their favour. Congratulations on your efforts, fair play and sportsmanship throughout the day.

9/10 Boys' Touch Team
Coach: Mr Sicily
Players: Cooper Braddon, William Connelly, Riley Church, Liam Murray, Connor Dickinson, Riley Lawless, Rhys McLaughlin, Peter Sutton, Kynan Doney-Edwards, Findlay Farrell
Senior Coach: Jeb Smith and Hayden Tunney
The 9/10 Boys' Touch Team has again reigned supreme in a brilliant display of champagne Touch Football, featuring flair, tenacity and sprinkling of razzle dazzle! An unbeaten run during the day was the perfect foundation for a stoic performance in the grand final. The boy's camaraderie evolved throughout the championship run to culminate in a well-oiled Frannies machine. The fun factor of singing and dancing their way to the field of play before each match helped calm the nerves. The team executed detailed plays – showing great creativity, cohesion and craftiness. It was reminiscent of the SFX Teachers performances against Year 12 in years gone by.
Great work gentlemen!
Secondary Combined Swimming – Wednesday 31 March
Team Manager: Mrs Martin
Swimmers: Jedd Wang, Brianna Rose, Lucas D'Amico, Darcy McKnight, Brayden Hunt, Mikayla Scanlan, Alexander Scanlan, Millie Maher, Lily Blackman, Lincoln Nicholson, Skye Hunt, Eve Lumbaca, Harrison Osburne, Charlie Hughes, Tahlia Rose, Abbey Reynolds, Amber Librando
Well done to the above students who represented SFX at the Secondary Combined Schools Swimming Carnival on 31 March. All of the students represented the school with pride, and it was great to see students supporting and encouraging one another. Thank you to the parents for picking students up when they finished competing. Another big thank you goes to Mrs Martin for taking the swim team out to compete at this event.
Congratulations to the following students who have made it to the ACT Swimming Championships Carnival – Lucas D'Amico, Darcy McKnight, Jedd Wang, Charlie Hughes, Amber Librand and Lincoln Nicholson.
ACT Basketball Finals – Friday 23 April
7/8 Girls' Basketball Team
Coach: Mr Stace-Winkles
Players: Catherine Lewis, Amon Duoot, Hannah Searson, Sarah Rabbets, Amelia Hodgson, Ella Fitzpatrick, Sasha Absolon, Kelsey Wilson, Olivia Monaghan, Emily Pine
Senior Coach: Ellouise Rabbets
Referee: Neeve Lynch-Jones
The 7/8 Girls' team had a great time playing in the final's day. They played with great determination and sportsmanship across the day – it was great to see them working as a team. Unfortunately, the results were not in our favour however, the girls kept their heads high and had great spirit and energy. Well done girls! A big thank you goes to Ellouise who helped coach on the day and to Neeve Lynch-Jones who refereed.
9/10 Girls' Basketball Team
Coach: Mrs Stevens
Players: Audrey McCombie, Isla Begbie, Luka Hiskins, Katie White, Sienna Putt, Anina Hinchcliffe, Jessica Pine, Claire Rabbets, Aimie Tencic.
Senior Coach: Kaici Menezes
Referee: Isaac Clarke
The girls played well throughout the day against some very tough competition. They played their best in every game and pushed the opposition despite results not being in their favour. A big thank you to Kaici and Ellouise for coaching on the day – they did an outstanding job! Well done also, and a big thank you to Isaac, Neeve and Kaici who refereed throughout the day.
9/10 Boys' Basketball Team
Coach: Mrs Martin
Players: Aden Garrido, Michael Kuriakose, Jason Gak Bol, Lachlan Gladwin, Ben Lum, Ryan Hutcheson, Ajang Ajang, Jesse Monaghan, Padraig Dykes.
Senior Coach: Malual Aleer
Referee: Max Manning 
Congratulations on coming runners up boys! The team worked hard in defence, displayed some great attacking plays, and scored some big baskets across the day. The boys were great competitors, pushing their opponents to the very end especially in the grand final where they were unlucky to go down by a few points. Well done again on your efforts and sportsmanship on the day. A big thank you to our senior coach Malual and our referee Max – your help was greatly appreciated!
ACT School Sport Golf Tournament – Monday 3 May
On Monday 3 May, Kane Smith and Harrison Osburne represented SFX at the ACT Secondary Schools Golf Tournament at Yowani Golf Club. Harrison competed in the U15's and Kane in the U19's division. To be eligible to enter the event the students had to meet the prerequisite of having a Golf Australia Handicap. Well done to both Kane and Harrison for representing SFX at this event this year!
A big congratulations to Kane who after 18 holes tied with two other students. All three students then played for the U19's title in the playoffs! Kane kept his nerve and composure and came out on top winning the U19's division. Great work Kane on a big achievement!
Representative Sport
At SFX we have many students who compete in various sports at different levels throughout the year. We like to recognise the sporting achievements of students, especially those who are being selected in representative teams in their chosen sports! Below are some recent achievements in our community.
Please get in touch with Grace Hammond (Sports Coordinator) if you have any achievements you would like to share.
Ellie Bishop: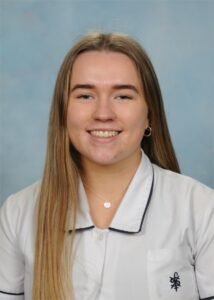 In 2020 Ellie Bishop was selected to represent Australia in the Under 17's Oztag Team. This tournament was to be held in Auckland last year however, due to COVID-19 was postponed multiple times. The event will be going ahead in September this year and Ellie will finally have the opportunity to represent Australia! We wish you the best of luck later in the year Ellie!
Ellie was also recently in Melbourne after being selected in the Under 19's Allies Team. This team is a representative AFL team picked from players from NSW, ACT, TAS and NT. This side will play against SA and WA. Congratulations for being selected in this team Ellie!
Lauren Bates:
Lauren recently competed in the Junior Goulburn Tour (road riding) event. This entailed two days of racing with four events in total. Lauren competed against many riders from NSW and VIC. A huge congratulations to Lauren for winning this event!
Lauren has also been categorised by Australian Cycling as 1 of 23 emerging endurance track athletes. Way to go Lauren!