By Colleen Rowe
Year 7 Camp
One of my most enjoyable 'duties' I have experienced in leadership roles at SFX is being in the bus bay to welcome home the staff and students from school camps and retreats.  I love seeing the tired but happy faces of the students, the reunions with parents, hearing snippets of the excited retelling of the stories to mum, dad or the brother or sister who have come to collect them.  I feel such pride in our students who usually 'shine' on such occasions; often impressing the staff at the venues with their polite "thankyous: and the general courteous way they conduct themselves.  One of the Collaroy Centre Convenors commented to Martin Mullin, our Year 7 Coordinator, that the Year 7s were an 'excellent group who we are sorry to say goodbye to. The dining room ladies and even the cleaners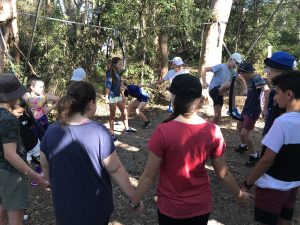 complimented the SFX kids on their great behaviour'.
This is a compliment to all involved and I feel a great sense of gratitude for our wonderful staff: teachers and support staff, who do such an amazing job caring for the students over the days of the camp.  As I stood watching the homecoming of the Year 7s last Friday evening I could see how weary the staff were but also how contented they were that it was a great success.
It is occasions such as these that helps make SFX such a 'pastoral' school.  Martin Mullin and his Pastoral Team have spent the last 6 years nurturing and supporting last year's graduating Year 12s enabling them to thrive and grow, equipping them to 'fly the nest' and step out into the world for an exciting future.  On Friday the team were there again, on the journey to Year 12; happily sharing their stories of this camp, the students and how pleased they were that it had been so worthwhile.  Friendships were made, bonds formed across the year group and the all-important building of community for our Year 7s.  I'm sure the SFX Community would like to thank Martin and his team for working so well to ease our youngest students into high school life: one of the major life-transitions.
Staffing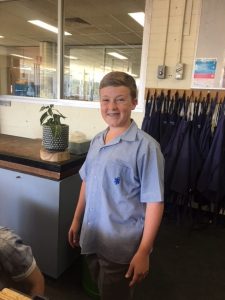 With nearly 1200 students and about 130 staff we continually experience the 'cycle of life' at SFX.  This term there has been the deaths of loved grandparents, new babies and staff caring for sick relatives.  We are so fortunate to have great staff ready to step-in when people are away sick or caring for loved ones.  This has been the case over the last few weeks as Barbara Morris, our AP for Staff Development, has been caring for her husband in the Canberra Hospital.  Dearne Bassett has kindly stepped into Barbara's role over the last few weeks with Cathy Barry, our Year 11 Coordinator, acting as the AP for Student Wellbeing and Mr Travis Cragg moving from the Pastoral Assistant's role to the acting Year 11 Coordinator role.  I would like to thank all the staff who have stepped up or made adjustments, to ensure the smooth running of the College at this time.
Enrolments
Catholic Schools Week and the enrolment period for 2019 begin in Week 2 of next term. To assist us in getting the SFX Story out to the community Daniel Sanguinetti, a 2002 SFX graduate and Managing Director of Sanguinetti Media (an award-winning Canberra based film and video production company) visited the College recently to discuss making an SFX Virtual Tour for the College web site.  Daniel was very impressed with how the College had flourished and grown since his cohort graduated as our first Year 12s in 2002.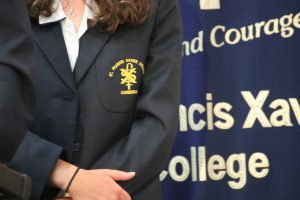 It will be very special having Daniel (whose love of Media blossomed at SFX) working with our current SFX Media students on the filming and interviewing of students.  Beth Doherty, our Communications Officer, has also helped facilitate the production of a promotion video with Catholic Education Communications Staff for use in the enrolment period, which we share with you below this column, and also at the following link: PROMO VIDEO
Wishing you a peaceful and relaxing Autumn break!
Colleen
http://www.faithandworship.com/index.htm
An Autumn Prayer by John Birch
So many shades of gold
Autumn
Another miracle we take for granted
Another expression of the artist's vision
The blending of the autumn hues
with the setting sun
Warm
Comforting
Perfect
Thank you for autumn, Lord
Read more at: http://www.faithandworship.com/Prayers_Autumn.htm#ixzz5C4dHb1m9