Woo-ing Students and Teachers of SFX
May 15, 2018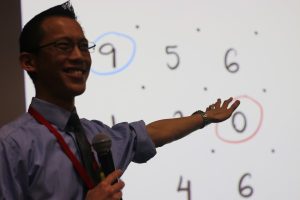 On Tuesday 15 May, famous maths teacher Eddie Woo visited St Francis Xavier College in Florey, to spend some time with staff and students and run some workshops on his methods for mathematics education.
Eddie Woo is the head maths teacher at Cherrybrook High School in Sydney's North West.
He won the Australian Local Hero award at the Australia Day awards ceremony in January, gave the NSW Australia Day address (the first time a teacher has done so) and is a Top 10 Finalist of the Global Teacher Award.
Eddie was featured in Australian Story earlier this year, and has made it his mission to educate people in numeracy not on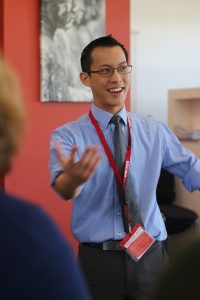 ly at the school where he is head of maths, but around the world through his "Wootube" channel with over 14 million views.
Woo was greeted by representatives from Canberra's Catholic schools and SFX staff at morning tea, and followed it with an interactive session for teachers.
Eddie was asked about what he would say to those daunted by mathematics, those who find it difficult, and he had some wonderful practical advice.
"Mathematics is a subject that is woven into absolutely every aspect of our lives but sometimes we don't realise that it is. If you struggle, open your eyes. If you're driving through traffic have a look at how the traffic is flowing or how the traffic lights are changing colour. When you're buying something at the shops think about all the numbers and patterns around you."
He encouraged a positive attitude, perseverance, and suggested that the best way to enjoy and understand maths is to find beauty in the mathematical concepts that surround us.
"Pick up a flower and count the number of petals on it and the shapes and geometry of it. Secondly, be patient. Maths is like gymnastics. In gymnastics you have to twist your body into funny forms and in maths you twist your mind."
Eddie spent an hour with over 150 Year 9 students, teaching them through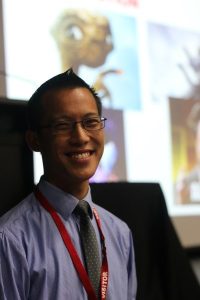 number games, an engaging presentation style which had the students enthra
lled.
He also had a word of advice for those who teach maths and struggle to get through to their students.
"My greatest piece of advice for teachers who teach maths is to know that this is a subject that kids often don't connect to their everyday life. We need to see that it's relevant. But no matter what profession or work I go into there is mathematics tucked away in that. By knowing this, we can start to appreciate the patterns and relationships in the world."