Almost time for holiday reads
June 27, 2022
As semester one draws to a close the Resource Centre are very much making the most of the last two weeks. The library is full of student helpers, clubs, classes coming in for holiday borrowing, breakout boxes and VR.
Over the next week, we will have all year seven and eight students through to explore the curriculum in a brand-new way. BreakOUTs are puzzle games similar to escape rooms all about having fun while reinforcing knowledge and topics learned throughout the term. They are excellent tools to wrap up a subject, add some pizzazz to the content or even test a cohort on their progress. Not only are we using BreakOUT boxes to engage students, but our wonderful teacher librarian Kathy Talbot has been running virtual reality sessions with year ten religious education classes. Being able to explore places of spiritual significance from the comfort of the lounge.
As every bookworm knows the school holidays are a brilliant time to pick up something new, tackle that bedside stack or even try a whole new medium, audiobooks anyone?! Our wonderful Year 11 work experience student Ellora has put together a great display of holiday reading recommendations using Instagram imagery. We absolutely love seeing how excited students are to make those all-important decisions and would encourage everyone to make sure they have some worthy reading material to accompany what we hope will be a brilliant holiday.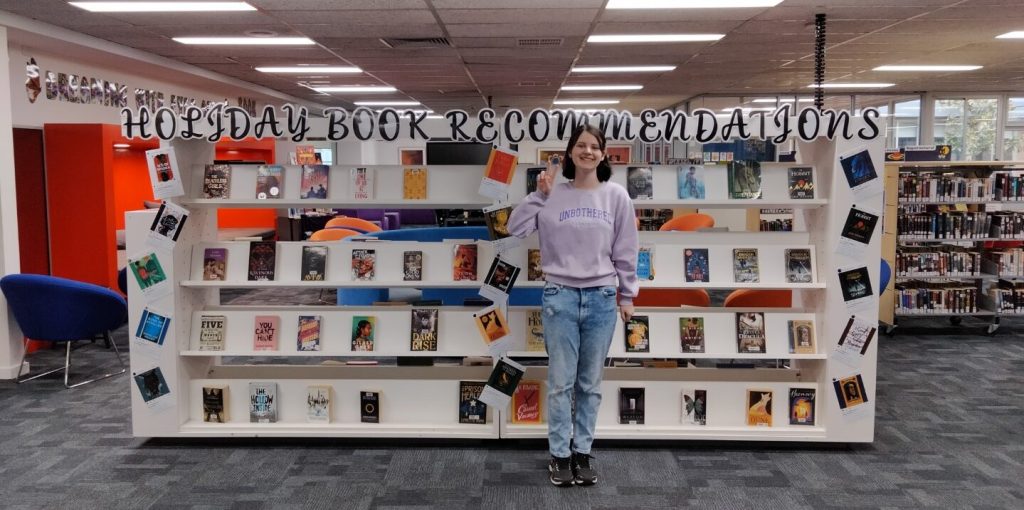 Term 3 (Week 6) brings one of the most exciting weeks in the life of every school library, Book Week. We can't wait to tell you all about it next term, but as of right now, there are a few things we can mention. Book Week gives us the exciting opportunity as teenagers and adults to dress up. We love seeing the brilliant costumes and encourage you to start thinking about your costume over the holidays. We will also be running a book swap and would be delighted to receive donations from the school community of second-hand books. We are looking for a wide variety, but books that are in a good condition and will be appealing to the students. If you are having a clean-out or are just feeling generous, please do let us know or have your child drop off the books to the RC staff. Thank you in advance for your invaluable help.
RC recommended holiday reads   
The RC staff would like to recommend a few of our new books but please feel free to come in or contact them anytime for personal recommendations.
Tracks of the Missing

Deklan 'Dek' Archer and his mates arrive at school to a tense atmosphere. 'Old Mate', Mr Henry, who has lived in town for a long time, has been found murdered. To add to these worries, the Year 12s, who were on camp, are now missing. The police think there is a link between the missing students and the murder. Dek and his friends are torn. Dek and Willum, his best mate, have an important football match that evening – professional recruiters are in town. Neither wants to let their coach down but they feel they must search for their friends. Deklan's grandfather, a renowned tracker with certain otherworld gifts turns up, and expects him to go bush. This choice will change Dek's life and family forever.

Tiny Dancer

All her life, Siena has dreamed of being a ballerina. Her love of movement and dedication to the craft earned her a spot at the School of American Ballet, with hopes of becoming a member of George Balanchine's world-famous New York City Ballet company. Siena has worked hard for many years to be a professional ballet dancer, but injury and doubt are starting to take their toll. Maybe it's time to look beyond the world of dance – but Siena's whole identity has been shaped by ballet. When you have spent your entire life working toward something, how do you figure out what comes next? And how do you figure out who you are without the thing that defined you?

The Bravest Word

Do you hear that? You're Cliff now, and your life is going to get better, I promise. When eleven-year-old Matt finds Cliff, a hurt, neglected dog abandoned in the bush, he knows the brave little pup needs saving. He wants to help. But can he? Lately, Matt has had way more bad days than good days. The pieces of his life just don't seem to fit together any more and he doesn't understand why. He's finding it impossible to concentrate at school and has lost interest in the activities he used to love. Plus, he's tired all the time. Matt's too afraid to share what's really going on in his own head with anyone. His friends and family will never understand.

Mars Awakens

Raised in rival colonies on Mars, each long ago abandoned by Earth, Dee and Holt have been brought up to hate even the idea of each other. But when a mysterious object crash-lands on a far-flung plain, they are both sent to investigate and their fates intertwine. Together they must battle epic storms and deadly bioclouds while unpicking the web of lies they have been told about their planet. Will their bond be strong enough to withstand the arrival of a mysterious invader that threatens to end life on Mars forever?