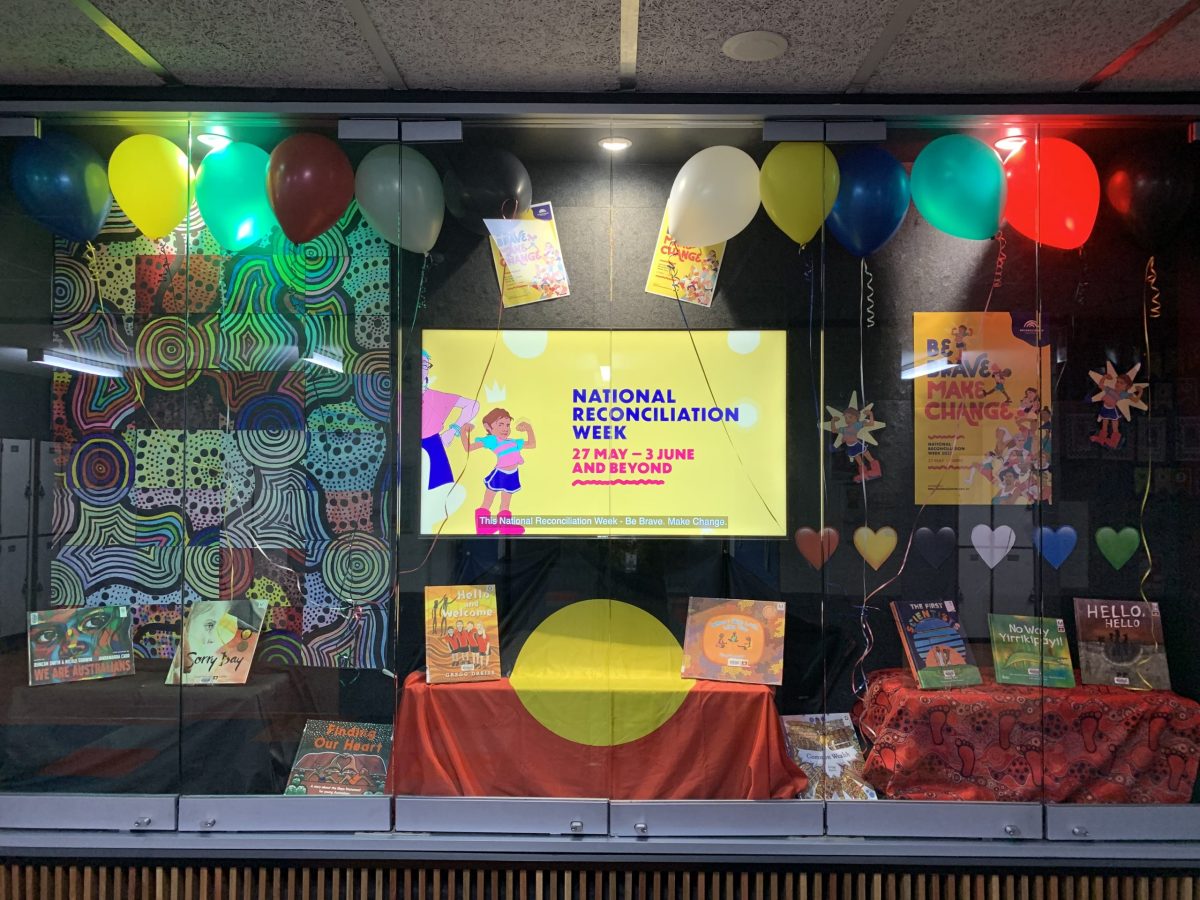 Apprentices and Australian Reconciliation
June 3, 2022
Welcome to the latest Resource Centre update! There are still wonderful books, clubs a plenty and many events being planned. So, what is new? Well, the RC are very excited to introduce the role of student library assistant. We have been overwhelmed by the response from so many of our students and can't wait to teach them new skills as well as have their direct input on making the space beautiful, inclusive, and fun.
Apprentices
We would like to introduce you to three of our library assistants from Year 7—Olive M, Clare B and Grace M—who have already helped make our space the best it can be with their passion and joy.
Why are you excited to be a Library Assistants?
Olive:  Working in the RC has been so much fun so far. It feels great to be able to help and get things done. I am excited to be a library assistant because I enjoy working in the library with the library staff and the other assistants.
Clare: Excited?! I am more than excited. This 'job' has already bought me so much pleasure and happiness. I enjoy bringing happiness to students at our school.
Grace: Why wouldn't I be excited?! Being a library assistant has already been a wondrous experience, and I can't wait to make many happy memories with these amazing people!
What is your favourite thing about the library?
Olive: My favourite thing about the library is probably the people that we work with.
Clare: My favourite part about this library is definitely the personality of the staff and students that I work with.
Grace: EVERYTHING! Everyone in the library is nothing but helpful and polite. Plus, not only have I made great friends with the librarians, but I get to work with my best friends/fellow library assistants. They have a fantastic selection of books which I will happily indulge in over the next 6 years.
Yes, the RC staff are very lucky! ♥♥♥
National Reconciliation Week
This week has also been a time to celebrate the works of First Nations authors. Reconciliation Week is a time for all Australians to learn about our shared histories, cultures, and achievements. The SFX community are dedicated to creating a space that does just that. We are always looking to grow and do better. We are so thankful for Libby Goodsell's simply stunning display. In that spirit I would love to recommend some of the favourite works by First Nations authors of RC staff below.
The Boy from the Mish by Gary Lonesborough

It's a hot summer, and life's going all right for Jackson and his family on the Mish. It's almost Christmas, school's out, and he's hanging with his mates, teasing the visiting tourists, avoiding the racist boys in town. Just like every year, Jackson's Aunty and annoying little cousins visit from the city – but this time a mysterious boy with a troubled past comes with them. As their friendship evolves, Jackson must confront the changing shapes of his relationships with his friends, family and community. And he must face his darkest secret – a secret he thought he'd locked away for good. Compelling, honest and beautifully written, The Boy from the Mish is about first love, identity, and the superpower of self-belief.

We are Australians by Duncan Smith & Nicole Godwin; with paintings by Jandamarra Cadd

What does it mean to be a citizen of Australia? Being an Australian comes with rights and responsibilities. This timely book highlights the questions we face as a nation and suggests a way forward walking together. Written by Wiradjuri man Duncan Smith and award-winning author Nicole Godwin with artwork by Yorta Yorta Dja Dja Warung descendent Jandamarra Cadd.

The First Scientists: deadly inventions and innovations from Australia's first peoples by Corey Tutt; illustrations by Blak Douglas

Have you ever wondered what the stars can tell us? Did you know the seasons can be predicted just by looking at subtle changes in nature? Maybe you have wondered about the origins of glue or if forensic science is possible without a crime scene investigation. Australia's First peoples have the longest continuing culture on Earth and their innovation will amaze you as you leaf through the pages of this book, learning fascinating facts and discovering the answers to life's questions. In consultation with communities, Corey tells us of many deadly feats, from bush medicine to bush trackers, that are today considered 'science', and introduces us to many amazing scientists, both past and present. The breadth of 'sciences' is incredible with six main chapters covering astronomy, engineering, forensic science, chemistry, land management and ecology. The first scientists passed on the lessons of the land, sea and sky to the future scientists of today through stories, song and dance, and many of these lessons are now shared in this book.

After Story by Larissa Behrendt

When Indigenous lawyer Jasmine decides to take her mother Della on a tour of England's most revered literary sites, Jasmine hopes it will bring them closer together and help them reconcile the past. Twenty-five years earlier the disappearance of Jasmine's older sister devastated their tight-knit community. This tragedy returns to haunt Jasmine and Della when another child mysteriously goes missing on Hampstead Heath. As Jasmine immerses herself in the world of her literary idols – including Jane Austen, the Brontë sisters and Virginia Woolf – Della is inspired to rediscover the wisdom of her own culture and storytelling. But sometimes the stories that are not told can become too great to bear. Ambitious and engrossing, After Story celebrates the extraordinary power of words and the quiet spaces between. We can be ready to listen, but are we ready to hear?
Reconciliation pop-up gig
Lastly, we had Andrew from Year 12 perform a set of Reconciliation inspired songs including Kev Carmody and Paul Kelly's 'From Little Things Big Things Grow' and some Midnight Oil in the RC at lunchtime on Thursday. Dhjan Yimaba (thank you) for stepping up and performing for staff and students, Andrew. And Dhjan Yimaba to Contact Teacher for Aboriginal and Torres Strait Islands Education, Ms Goodsell and the RC staff for the beautiful decorations and organisation of the event.
Harry Potter turns 25
Oh and we've also been celebrating the 25th Anniversary of Harry Potter and the Philosopher's Stone, first published 25 years ago at the end of June. Do you remember reading Harry Potter for the very first time??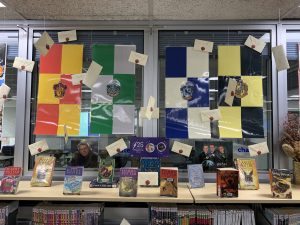 It's been a great few weeks!