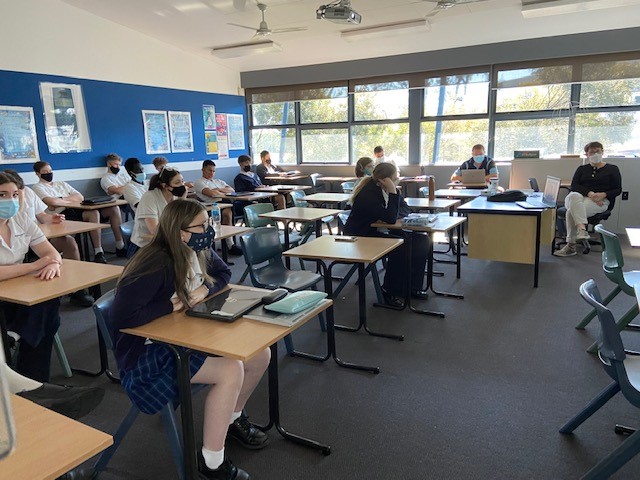 Beyond Blue "visits" Year 11 for Mental Health Month
November 12, 2021
On Tuesday 26 October, Year 11 had the pleasure of a virtual visit from Beyond Blue speaker, Tom Downie to mark Mental Health Month. As a former AFL Giants player, Tom spoke openly and in a heartfelt way about his struggles around anxiety and mental health issues when he moved from his hometown of Melbourne to Sydney to play for the Giants four years ago.
Tom developed a love for sports at a young age and dreamed that someday he would be a professional athlete. With lots of hard training, a dedication to AFL, and being 6'8 at the age of 16, Tom's career took off and he found himself playing for the GWS Giants. However, not long after arriving in Sydney something felt wrong. Tom didn't just have a case of the butterflies when he went to training, Tom often sat in the parking lot and despite being a super successful athlete he worried about being on the field with his team. His social anxiety began to peak as did his thoughts around his performance.
Tom had achieved his dream but couldn't help feeling extremely anxious about the games, the training and seeing his team members. Tom sought help and found it in friends, family, a psychologist as well as the Welfare Officer of his club who looked out for him and helped him to come to terms with his anxiety. When weighing up his options, Tom made the tough decision to stop playing footy and move back to Melbourne to take care of his own mental health. He began to own his anxiety and accept that he needed some help. After being a sportsman for so long he also needed some time out to rediscover his identity.
Tom concluded his presentation by telling the students how he found happiness in helping others and working with youth. Tom shared his story on how his anxiety and how it altered his life but even after having to give up his dream to be a professional footy player, Tom found happiness and good health working and supporting youth. He shared some helpful strategies to manage day to day including seeing a psychologist (accessing help), keeping perspective through meditation or journaling, sleeping well, exercising, maintaining a good diet, being ready to learn and take on new ideas, being open about struggles to your friends and being kind to yourself.  
By Riley and Malual