Book Week 2021
September 17, 2021
Book Week took a different turn this year, just like a good plot twist in our favourite novel, the Resource Centre adapted like any reliable protagonist to provide a celebration of books and reading.
Pastorals took part in three Book Week quizzes and fought it out for the Pastoral with literally the best literature knowledge. You may like to have a go yourselves at home:
Who Am I? (Book Characters)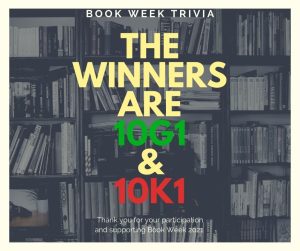 The week come to a close with some staff and students donning costumes of our favourite books characters.  Check out the gallery below for all the amazing costumes!
The prologue to any epic story was Literacy Week, Week 8.  Staff and students celebrated by sharing our favourite books in some conferences.  The Resource Centre has added more great titles to the library of eBooks and audio books.