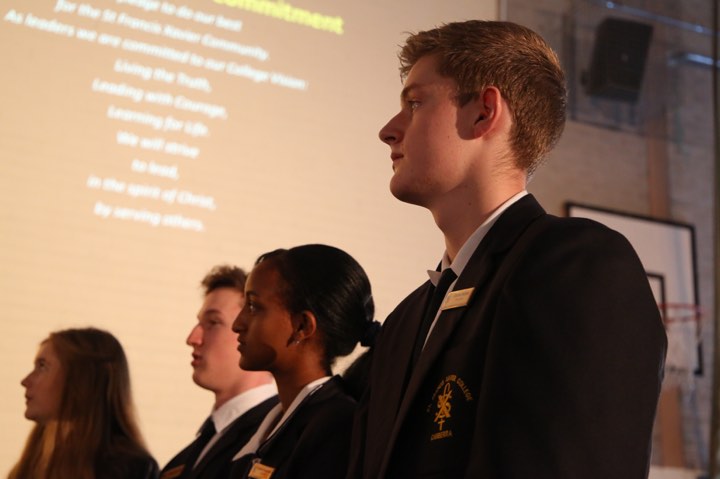 Getting to Know the Senior Leadership Team for 2019
February 26, 2019
By Beth Doherty
Each year, the College elects a Senior Leadership Team to represent them at events, show leadership at assemblies, carnivals and school activities, and to work for positive change in the school community across various focus areas.
This year, our school captains are Batseba Araya and Charlie Mellick. Our Vice Captains are Grace Braybon and Joachim Neville. Speciality captaincies include the following areas:
Spirituality: Diane Magnocavallo and Harrison Whalan
Sustainability: Charlotte Drury and Eamon Dalton
Social Justice: Ruby Grieg and Phillippa Merrick.
Our House Captains are:
Koorilla: Sarah Faruqhar and Flyn Hannan
Irin Irin: Lauren Golding and Sara Lang
Dullugal: Savahna O'Donnell and Nicholas Cresswell
Gariwang: Samantha Rubino and Josh Roberts
Pindari: Elise Hutchison and Hamish Smith.
When interviewed, Dullugal captain Savanha O'Donnell said that there were some important priorities for the year:
"This year, the SLT have decided to place an emphasis on teaching the students of our school about the Indigenous history of their house groups, which I personally hope will increase house participation, pride, understanding and respect within our college community," she said.
In a Catholic school, Liturgy and Spirituality captains have the important role of bringing the students' perspective to our masses and liturgies. Diane Magnocavallo has lots of hope that this year, students at the college will grow in faith.
"Harrison and I hope to bring more opportunities for students at SFX to be open about their faith and connect with others with same interests through Youth Ministry and new 'Bible Study'."
We wish our Senior Leaders all the best for 2019.