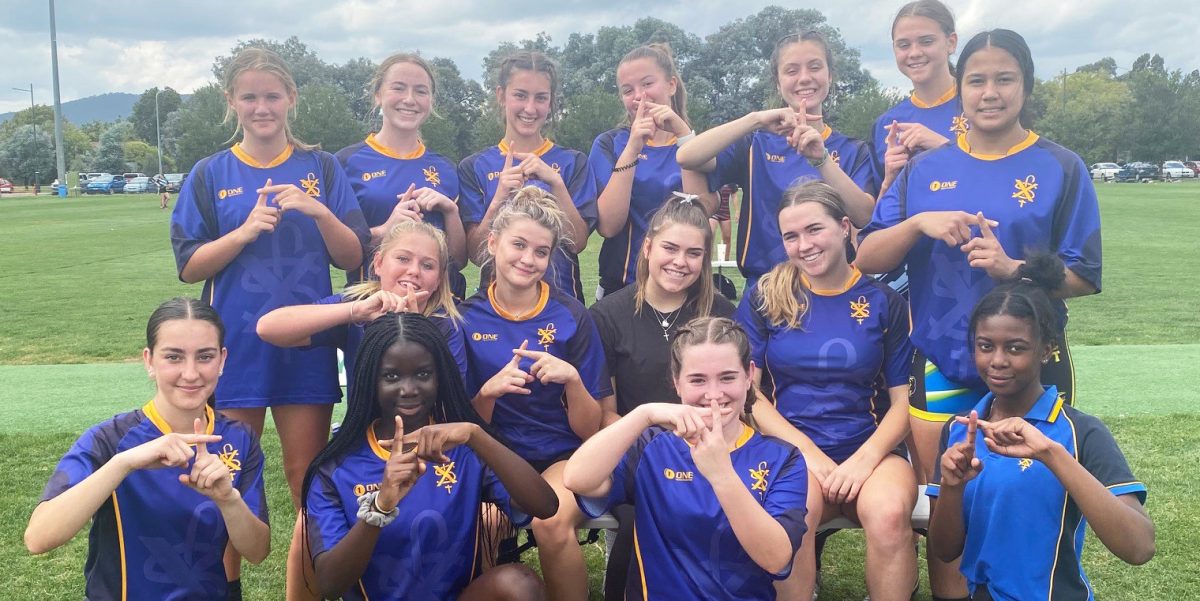 School Sport Update
April 1, 2021
College Girls League Tag – Thursday 11 March
Coach: Mrs Kennedy.
Players: Kyarna Toohey, Noumi Musa, Jorja Simpson, Ashlyn Walters, Brooke Arrow, Samantha Charlton, Kaylee Charlton, Lily Begbie, Holly O'Neall, Diana Bartulovic, Ellie Bishop, Jessica Workman, Maka Zanga.
Senior Coach: Eliza Roberts.
The sun was shining which made for a great day of League Tag! For a team that was thrown together at the last minute they did exceptionally well on the day. The girls worked well as a team and played with great spirit and sportsmanship. Everyone had loads of fun – the girls really enjoyed the opportunity to participate in the Gala day especially considering it couldn't take place last year. Well done to all who participated and helped coach on the day.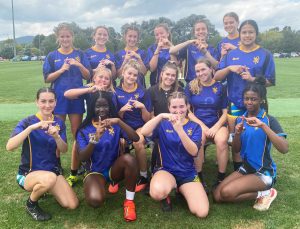 Boys Softball – Friday 12 March
7/8 Boys – Coach: Mrs Chartres.
Players: William Goodwin, Samuel Moran, Isaac Cowan, Ryan Knight, Connor Lees, Black Bishop, Jaden Angelo, Charlie Sturt, James Lum, Samuel Cull.
Senior Coaches: Sam Vincent and Dylan Rattenberry.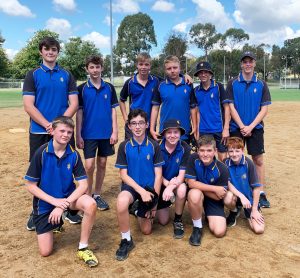 9/10 Boys – Coach: Mr McCallum.
Players: Elijah Logan, Kristian Panagiotopoulos, Ryan Liddle, Cooper Bell, Rhys McLaughlin, Nicholas Itter, Declan Cotter, Findlay Farrell, Jonty Reeves, Jack O'Donnell, Jack Friend.
Senior Coaches: Sam Vincent and Dylan Rattenberry.
With a wet start to the morning, it was a bit touch and go for a while, but the pitches slowly dried out and the games were able to begin. Both teams displayed some great teamwork and supported each other on the field. There were some spectacular catches taken, some fast pitching, and some big hits throughout the day. Well done to the 9/10 team who were undefeated on the day – winning by some very big margins.
A shout out to the Senior Coaches Sam and Dylan who did a terrific job helping the younger students – thank you!
Boys Basketball – Tuesday 16 March
7/8 Coach: Mrs Martin.
Players: Emmanuel Le-Cruz, Harrison Medway, Connor Lees, Deng Arok, William Laggner, Jeremiah Chut, Kuer Deng, Vincent Cockram, Max Manning, Amen Esayas.
Senior Coaches: Josh Day and Cameron Hutcheson.
9/10 Coach: Mr Beattie.
Players: Aden Garrido, Michael Kuriakose, Jason Gak Bol, Lachlan Gladwin, Ben Lum, Ryan Hutcheson, Ajang Ajang, Jesse Monaghan, Padraig Dykes.
Senior Coaches: Malual Aleer and Jesse Brooks.
There was a real sense of community at the Boys Basketball day, with several Northside schools attending. The 7/8 and 9/10 teams were both very competitive on the day and displayed great sportsmanship and fair play. The boys worked hard in defence, displayed some great attacking plays and scored some great baskets! It was excellent to see the boys step up and give back by taking on extra duties across the course of the day.
A huge thank you to our Senior Coaches; Josh, Cameron, Malual and Jesse who displayed great enthusiasm and passion for the game. They passed on their expertise and supported the boys all day – an amazing job!
Girls Basketball – Tuesday 23 March
7/8 Girls Coach: Mr Stace-Winkles.
Players: Catherine Lewis, Amon Duoot, Hannah Searson, Sarah Rabbets, Amelia Hodgson, Ella Fitzpatrick, Sasha Absolon, Kelsey Wilson, Olivia Monaghan, Emily Pine.
9/10 Girls Coach: Mrs Dunley.
Senior Helper: Ellouise Rabbets.
Players: Audrey McCombie, Isla Begbie, Luka Hiskins, Katie White, Sienna Putt, Anina Hinchcliffe, Jessica Pine, Claire Rabbets, Aimie Tencic.
Senior Helper: Kaici Menezes.
The 7/8 and 9/10 Girls' Basketball teams played with great sportsmanship and fair play across the gala day. Both teams were competitive on the day giving their opponents a run for their money! With some great results both teams finished in the top four and will now play in the Secondary Basketball Finals to be held in Term 2. Thank you to all the girls for being so lovely and good luck for the finals gala day!
Thank you to Ellouise and Kaici for their help coaching on the day, their knowledge and support was greatly appreciated!
SFX Swimming Carnival – Friday 19 March
Swimmers: Brianna Rose, Hanna Halvorsen, Lucas D'Amico, Tia McDevitt, Darcy McKnight, Brayden Hunt, Mikayla Scanlan, Millie Maher, Lily Blackman, Skye Hunt, Eve Lumbaca, Lincoln Nicholson, Alexander Scanlan, Harrison Osburne, Charlie Hughes, Tahlia Rose, Isla Begbie, Abbey Reynolds, Amber Librando, Alys Holdom, Madison Mills.
Helpers: Emily Costanzo, Halle Flynn, Molly Stocks, Victoria Marcantonio, Charlotte Manning, Samantha Cole, Vienna Graham, Hannah Fitzpatrick.
On Friday 19 March, a group of students ventured out to Stromlo Leisure Centre to compete in the SFX Swimming Carnival. The Carnival ran smoothly thanks to the staff officiating with many Year 10 helpers. Congratulations to all swimmers who competed, and best of luck to those who will be moving on to the Secondary Combined Swimming Carnival. A big thank you to all the students who helped on the day – this carnival would not have been a success without you all!