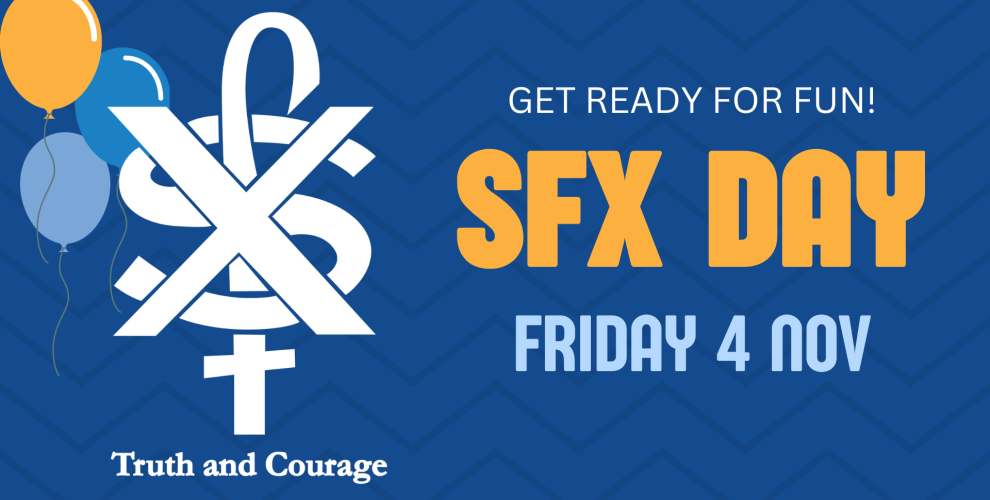 SFX Day is back!
October 27, 2022
St Francis Xavier College's annual SFX Day is taking place on Friday 4 November 2022. The day involves a Liturgy, trivia, food stalls, games, competitions and our famous Battle of the Bands.
All money raised on this day is donated to our House charities:
St Vincent de Paul
Companion House
Karinya House
Pegasus Riding School for the Disabled
Canberra Refugee Support
We will also be donating to Catholic Mission which the Canberra-Goulburn Archdiocese is fundraising for this term.
Pre-sale
To participate in SFX day activities, students need to purchase tokens. Tokens are available for pre-sale by EFTPOS the week leading up to SFX day on allocated days for each year group, or by cash during Pastoral on SFX Day. $1 = 1 token.
EFTPOS Pre-sale days:
Mon 31 Oct – Year 8
Tues 1 Nov – Year 7
Wed 2 Nov – Year 9
Thur 3 Nov – Year 10
Seniors can purchase any day.

Dress code
SFX Day is a uniform free day. Students are required to wear appropriate clothing including closed in shoes. More information on appropriate clothing for uniform free days is located on page 10 of our College Guide on our website.
https://sfx.act.edu.au/wp-content/uploads/2022/02/College-Guide-2022-edited-280122.pdf
Thank you to our sponsors!
We have had some wonderful sponsorship from our local community and would like to the thank the following businesses for their very generous donations that will be part of a raffle being distributed to both students, staff and the local community:
Hoyts Cinema Belconnen – Donation of 12 cinema passes
Rebel sport Belconnen – Donation of $50 voucher
Hyatt Hotel – Gift certificate for Seafood Buffet Dinner for 4 people in their Promenade Café
Hawker Butcher and Bonza Bangers – $25 voucher for Hawker butcher and bonza bangers
RockSalt – $100 voucher for dining in
Clonakilla Wine – 6 pack of wines (for the staff and local community raffle only)