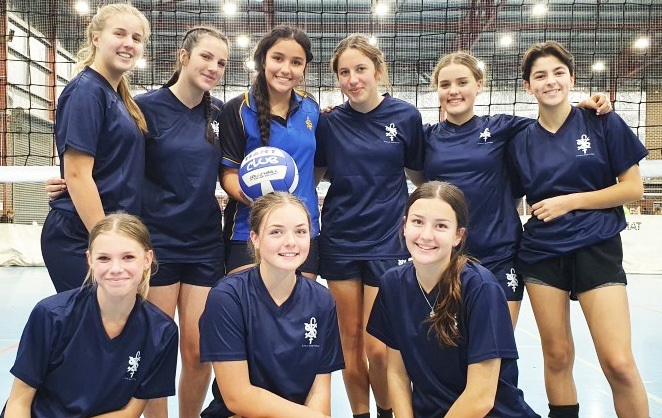 Sport News
May 28, 2021
ACT Swimming – Wednesday 28 April and Wednesday 5 May
Swimmers: Lucas D'Amico, Darcy McKnight, Jedd Wang, Charlie Hughes, Amber Librando, Lincoln Nicholson.
Well done to the students who represented SFX at the ACT 12 and under (28 April) and ACT 13 and over (5 May) Swimming carnivals. It is a big achievement to make it through to the ACT swimming carnivals, competing against students from all over Canberra – so congratulations and well done to all! A big thank you to parents who provided transport to and from this event.
Congratulations to Amber and Lincoln who achieved some outstanding results in the finals events!
Amber:
16 yrs 50m Freestyle Finals – 3rd place
15-16 yrs 100m Backstroke Finals – 2nd place
16 yrs 100m Freestyle Finals – 2nd place
15-16 yrs 50m Backstroke Finals – 2nd place
15-16yrs 100m Breaststroke Finals – 3rd place
Lucas:
14yrs 50m freestyle Finals – 7th place
9/10 Girls Volleyball – Friday 7 May
Coach: Miss Morgan
Players: Mayah Amosa, Zoe Brown, Lahni Hall, Ava Jadric, Katie Hawke, Georgia Ryman, Charlotte Cowley, Jessica Pine, Nicole Gray.
The girls came up against some strong competitors with a lot of Volleyball experience. It was great to see the SFX girls work together as a team, coming up with some great plays over the net. Throughout the day the girls won some games and lost some, but it was awesome to see them learning and improving as a unit. The coach was extremely proud as the team didn't drop their heads against the tougher teams and rose to the challenge! Well done girls – thank you for a great day out!
College Boys AFL – Thursday 13 May
Coach: Mr Nolan
Players: Ky Marriott, Maxwell Shadbolt, Joven May, Jesse Brooks, Geordan Whitton, Jye Smith, Zac Rukavina, Jye Rushton, George Wood, Callam Thomas, Jack Forrest, Jaiken Bell, Malual Aleer, David White, Ryan Ulrich, Angus Chiswell, Jake Tammaro, Harry Ryan-Baker, Tom Itter, Josh Day, Alex Monaghan.
The College Boys AFL day was a small event with only two games being played. The boys came up against Mackillop College and Daramalan College. With minimal time in between games, it was a tough slog – the boys won one game but lost the other. The team played with great enthusiasm and spirit on the day and demonstrated fair play and sportsmanship. It was great to see the boys representing SFX with such pride – thank you for a great day gentleman!
College Girls AFL – Tuesday 18 May
Coach: Miss Hammond
Players: Kyarna Toohey, Jorja Simpson, Noumi Musa, Ashalea Korbl, Brooke Arrow, Ashlyn Walters, Kenadi Honeysett, Mia Simunec, Samantha Charlton, Kaylee Charlton, Jessica Freeman, Lily Begbie, Favour Lokudu, Ellie Bishop, Jessica Workman, Maka Zanga.
Senior Coach: Eliza Roberts
The girls had a big day playing with only 16 a side and no subs. They had a great start in their game against Erindale College coming away with a 47- 6 win! The team then faced a more competitive Dickson College, and after leading at half time Dickson came back to level the scores with an 18 all draw. The third round saw the team come up against a very strong Lake Ginninderra side and unfortunately the odds were not in our favour here. A friendly final saw the team play Erindale a second time wining 66-14 to finish up 3rd overall. A massive effort to all the girls for playing with no subs. It was also wonderful to see students who hadn't played much in the past giving it a go! Well done ladies! A big thank you to Eliza who helped coach the girls on the day – it was great to have you on board.
SFX Athletics Carnival – Thursday 20 May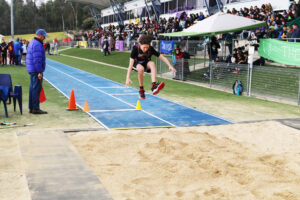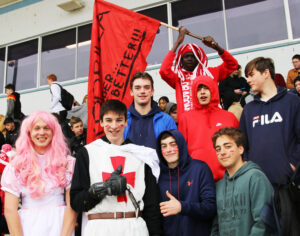 The SFX Athletics carnival was a great success! With a chilly start to the morning the sun finally came out allowing everyone to defrost! Thank you to all the students and staff who got into the spirit of the day by dressing up in their house themes/colours. Congratulations to all students who participated in track and field events gaining points for their houses. There were some impressive results on the day, with a few students even breaking school records for events in their respective age groups! A huge congratulations to these students.
Thank you so much to all the staff who helped run events on the day, and those who supervised in other areas – the day would not have been a success without you! Congratulations to the Korilla house captains for another victorious win!
Final house results
1st Place – Korilla
2nd Place – Irin Irin
3rd Place – Pindari
4th Place – Garawang
5th Place – Dullagul
Representative Sport
Here at SFX we have many students who compete at different levels throughout the year. We like to recognise students sporting achievements especially those who are being selected in representative teams in their chosen sports. Below are some recent achievements in our community.
Please get in touch with our Sports Coordinator, Grace Hammond if you have any achievements you would like to share.
Violet Nichols in 7P1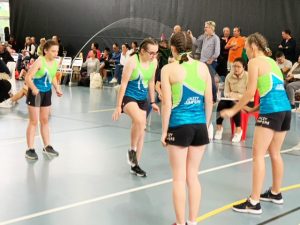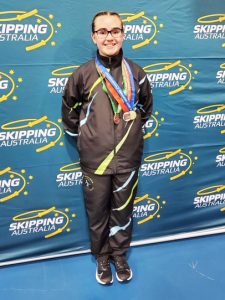 Congratulations to Violet Nichols in 7P1 who represented the ACT in Jump Rope Skipping at the NSW/ACT Rope Skipping Championships. Violet competed in the Speed Sprint and Endurance, Double Under Relay, Individual and Pair Freestyle, Double Dutch Speed and Freestyle and Triple Unders.
Violet competed in a massive 12 events, winning 10 medals in total. She came 2nd overall in her age group. Way to go Violet! Violet won the following medals:
1 x Gold
5 x Silver
4 x Bronze