St Francis Xavier College to Welcome New Principal
September 13, 2018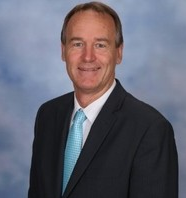 On 11 September, it was announced to the St Francis Xavier College community that we have a new Principal, Paul Carroll, who will lead the College for the next five years.
Paul replaces the outgoing Principal Angus Tulley who has been appointed Deputy Director of the CEO in the Archdiocese.
Below is a communique from the Director of the CEO, Ross Fox, on Paul's appointment. We warmly welcome Paul to our community.
TO: ST FRANCIS XAVIER COLLEGE, FLOREY COLLEGE COMMUNITY
Dear Colleagues and Friends
RE: APPOINTMENT OF PRINCIPAL, ST FRANCIS XAVIER COLLEGE, FLOREY
I am pleased to announce that following a panel selection process, Mr Paul Carroll has been appointed as Principal of St Francis Xavier College, Florey from the start of the 2019 school year.
Paul has been in leadership roles within the Archdiocese of Canberra and Goulburn since 1996, when he became Principal at St Mary's Secondary School, Young. He was appointed the Foundation Principal at Lumen Christi Catholic College, Pambula, in 2000 and remained at the College until 2012. During this time, Paul undertook a secondment in 2008 as the Assistant Principal (Staffing) at Merici College, Braddon. Paul was the Principal at St Clare's College, Griffith from 2013 to 2016. In 2017 he was a Principal Education Officer at Catholic Education before taking on his current role of Senior Officer: School and Family Services in 2017.
Paul holds the tertiary qualifications of Bachelor of Education (Mitchell College of Advanced Education, Bathurst); Graduate Diploma in Educational Studies (Charles Sturt University); Graduate Diploma in Religious Education (Australian Catholic University); Master of Education (Australian Catholic University). I congratulate Paul on his appointment and wish him every continued success as he undertakes this role.