VET and Careers News
April 3, 2019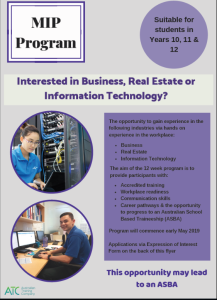 By Bernadette Bradley, Chris Stewart and Narelle Skinner
The careerSFX website is back!
The website is a one stop shop for careers tools offering
pathway planning and exploring career options
creating a resume
current calendar events for university, TAFE and CIT events
employment opportunities
beyond school study guide
This is just a sample of what is available.
This week, we would like to direct you to the interactive Bullseye Posters . This resource is exceptionally helpful for brainstorming career pathways.
Here is an example of what you find when you select a job:
YOU: List personal attributes, education and training and additional information.
THE JOB: Duties and tasks, working conditions and employment opportunities
RELATED COURSES: Identifies the course/s, the state and university/TAFE/CIT that offers the course; and links to related careers.
Careers Newsletter
Each fortnight Mr Stewart (SFX Careers Advisor) circulates a newsletter to the Year 10,11 and 12 students. The newsletter highlights important dates, job opportunities and specialist training opportunities. We encourage parents and carers to sign up for the newsletter too. LINK
Currently we have advertised an opportunity in Business Real estate and Information technology.

Australian Training Company is offering students the opportunity to gain experience in these industries, accredited training and work experience through a 12-week program commencing Week 2 Term 2 2019.

An information evening will be held on April 11 at 5.30pm at the Australian Training Company office located in Phillip.
Work Experience
Work Experience is a valuable opportunity that we actively encourage our Year 10, 11 and 12 students to participate in.
Work Experience is part of a school's educational program where students learn first-hand about the world of work. Work Experience acts as a vital link between young people and the world of business.
The Aims & Objectives of Work Experience are to help students:
foster personal and social development
understand aspects of our society
relate school learning to life outside the school
assist the transition from school to work
What Parents can do to help?
ensure documentation is completed, signed and returned to school
discuss work place experience with their children and within the school community
emphasise the importance of meeting work place expectations
For a successful Work Experience placement, we encourage parents to:
discuss suitable Work Experience placements with the student and assist the student in
finding a placement;
assist the student to find out about clothing requirements, starting and finishing times, meals and first day arrangements e.g. who to contact; and
assist the student in organising safe travel to and from the host employer.
Call for help
Have you considered hosting a Work Experience student in your workplace?
Being able to offer our students a selection of workplaces linked to the SFX community, provides a sense of security and reduces the anxiety students can experience when first engaging in the world of work.
If you are in a position to offer our students a Work experience placement, you are encouraged to contact Mr Chris Stewart via email or phoning the College on 6258 1055.