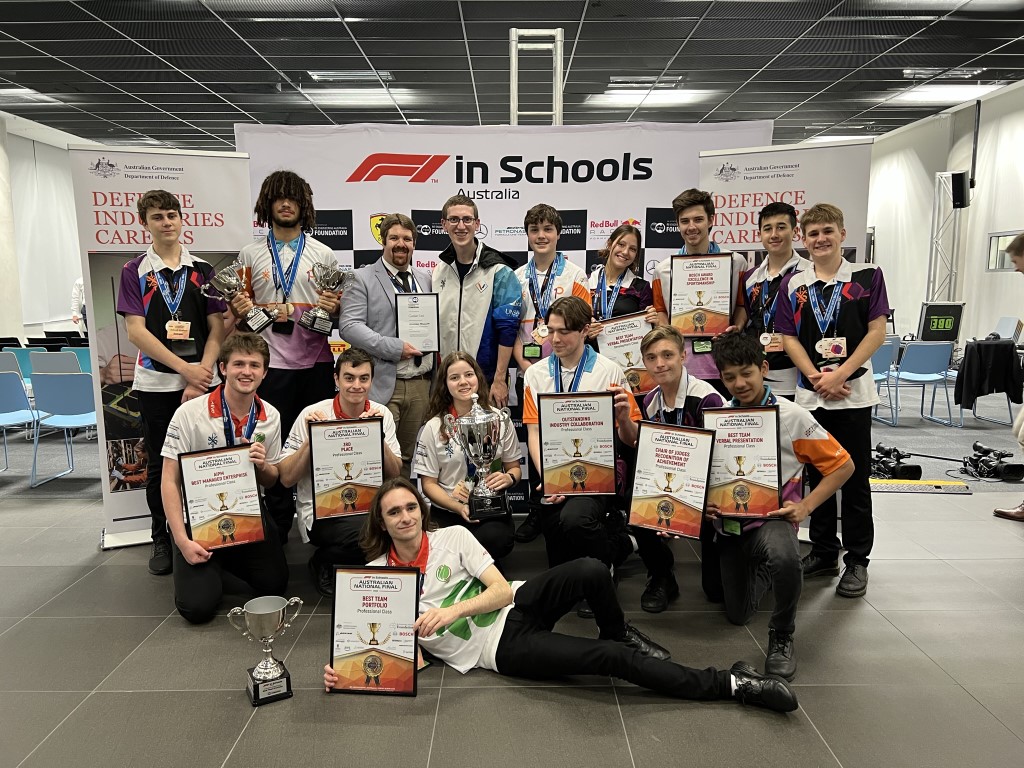 F1 in Schools success!
June 3, 2022
Recently three teams from St Francis Xavier College travelled to Melbourne to participate in the 2022 F1 in Schools Australian National Finals. The teams competed in several judging categories over the four days of competition, starting with scrutineering their cars on Monday and judging booth set up on Tuesday. On Wednesday and Thursday, students raced their cars and completed their verbal presentations and interviews for CAD, CAM and Trade Displays with professional judges from industry and the Australian Department of Defence.
It was certainly a massive effort for our three teams—the most from any individual school in Australia—and all teams were incredibly successful this year.
Year 10 team Synergise – Development Class (Isla B, Nicholas I, Rod W, Daniel M & Jacob H) received an award for:
Best Team Verbal Presentation

placed fourth overall

, missing out on a podium by just five points (out of over 1,000 in total).
Year 11 team Protiera – Professional Class (Patrick F, Kyle W, David H, Mika K & Jayden P) were awarded:
Chair of Judges Recognition of Achievement Award
Bosch Award for Excellence in Sportsmanship

placed fourth overall.
Year 12 team Innovation – Professional Class (Zoe C, Alec M, Alessio G & Kasey M) took out four awards in total—an incredible achievement after their four years of hard work on this competition:
Outstanding Industry Collaboration
Best Team Verbal Presentation
Best Team Portfolio
Australian Institute of Project Management Award for Best Managed Enterprise.

placed third overall.
With this placing, the team now waits to see if we will be invited to represent Team Australia at the upcoming World Finals in 2023.
On top of all this, our Design and Technologies Coordinator, Mr Stock, was inducted as an Honorary Fellow of the Re-Engineering Australia Foundation at the award ceremony, in recognition of 'efforts in building the Scientific, Technological, Engineering and Mathematical (STEM) Capacity of Australian Students'. As a fellowship with fewer than 30 member teachers, this was an incredible honour.
Opportunities like this wouldn't be possible for students without the incredible support of staff at SFX and in particular we would like to thank Ms Marriott for travelling with Mr Stock and the students to Melbourne to support them throughout the week. We also thank Mr Elias and Mr Abigail for their tireless support of our F1 students in the weeks and months leading up to the competition.
We would also like to recognise the team's sponsors, as without their financial support the students wouldn't be able to participate in these amazing opportunities. Synergise was supported by Affinity Electrical and CEA Technologies, Protiera was supported by Complex Co., and Innovation was supported by Planet Media and Sitzler. Thank you to all these wonderful Industry Partners for all their help and support.
Official images from F1 in Schools Australia shared with their permission.