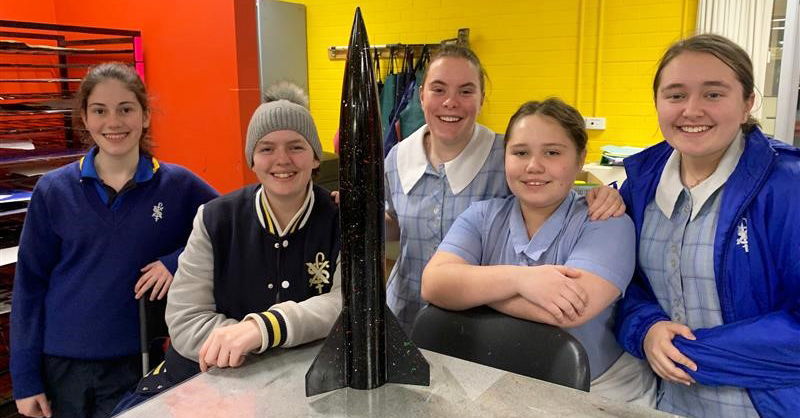 Girls Rocketry Engineering Group – building a rocket
September 17, 2020
51 years ago the human race landed on the moon. Neal Armstrong's famous quote 'That's one small step for man. One giant leap for mankind', was all about taking steps. Well during term two, the Girls Rocketry Engineering Group took their first step in reaching their goal of making a rocket capable of flying to over 20,000 feet!
One cold afternoon on the school oval, the group launched their first attempt rockets made of cardboard, plastic and wood. These low powered model rockets only flew to 30 feet, but the group would use the same material along with some important learnings to eventually achieve the 20,000 feet goal! The group discovered so much about rocketry that day, including the notion that 'what goes up must come down'. They learnt that the process taken to pack the wading and parachute has a huge impact on the circumstances of the rocket's descent.
During the mid-year break, the group was back again learning advanced techniques in building high powered rockets. They covered how to build with composite as well as laser cutting and using epoxies.
Next on the agenda will be to learn about and use the sensitive sensors built into the electronic systems and flight computer. Stay tuned for the finished product!