What's happening in Visual Arts???
August 9, 2022
There is so much going on in our Visual Arts department. Here are just a few of the highlights.
Year 7 & 8 Visual Arts – Introduction to Visual Arts
Semester Two has started, we have a whole new group of students in visual arts for Years 7 and 8. This course introduces students to all the main art mediums—drawing, painting, media, printmaking and sculpture. Students are enthusiastic and already learning about the language of the visual arts and using it to inform their own artmaking. Students are also developing their critical thinking and literacy skills analysing artworks, and some are even completing a media task where they get to design their own superhero or villain! We have an exciting semester ahead of us! Stay tuned!
Year 9 Visual Arts – Landscape and urban environment
Students are beginning with a task where they find a 360 degree panoramic image and use Photoshop to create a spherical format of the image. This image creates the basis for a painting they complete. What a fantastic way to create a contemporary artwork integrating digital technology!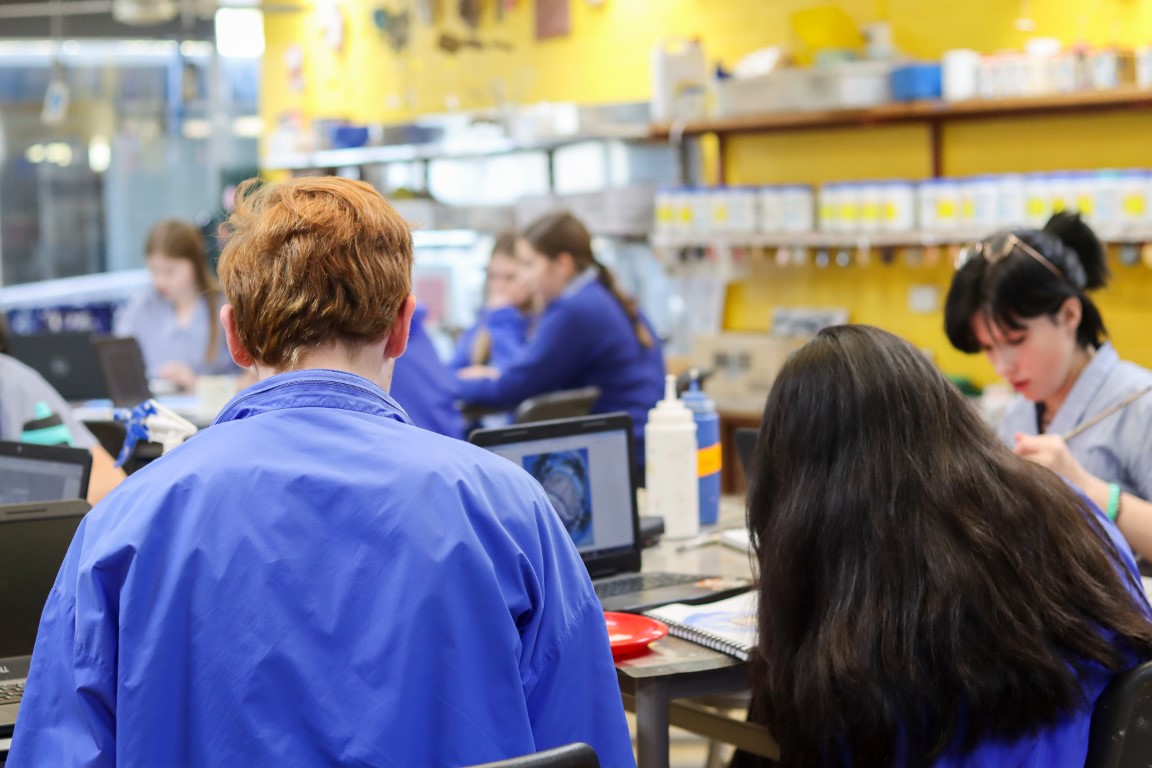 Year 10 Visual Arts – Social commentary
Students have started researching social issues they are passionate about. In the next few weeks, students will begin designing an artwork to be painted onto a skateboard, that presents a social issue. The students are so excited!
Senior Visual Arts – Communicating meaning in Visual Arts
This semester our senior visual arts students are studying how to communicate meaning in artworks. We have started with learning about the 'Analytical Frameworks'. There are four components to the analytical frameworks—personal, cultural, contemporary and structural. The analytical frameworks can be used to interpret artworks. This week, students are set the challenge to create a clay sculpture that represents each of the analytical frameworks. An additional challenge is they are encouraged to work in groups and only have one lesson for each framework! The time constraints are great preparation for their Major work which needs to be completed in five weeks in term 4. Working collaboratively is also a vital skill that students need to develop, to be prepared for their future contribution to society—something all employers are looking for. Students had to integrate their ideas as a group to create a personal and meaningful visual representation for each analytical framework. Such creative ideas—beautiful to watch!
Senior Photography – Innovation in Photography
This semester we welcome Mr Cameron Major to our department. We are so excited! Mr Major comes with a wealth of photography experience, having been a freelance photographer and run his own photography studio. Mr Major will be an incredible inspiration to students as he shares the career pathways available for photography, while developing their creativity skills.
Year 9 Photography and Media – Landscape and urban environment
This semester students are focusing on landscape and urban environment photography. Students have previously looked at composition rules and manual exposure settings. For landscape photography, they will add to their suite of skills and knowledge by looking at automatic exposure bracketing, high dynamic range photography and photo stitching—then put these into practice with a photo walk around Lake Ginninderra. Later, when we look at urban photography, we will look at aperture priority and shutter priority shooting modes, and "shooting from the hip" techniques – then put these in to practice with a photo walk in the city.
This week Mrs Marshall's class took some photographs working on taking photos with balanced exposure and good composition at the National Museum. The rain held up! Perfect overcast conditions for taking photos!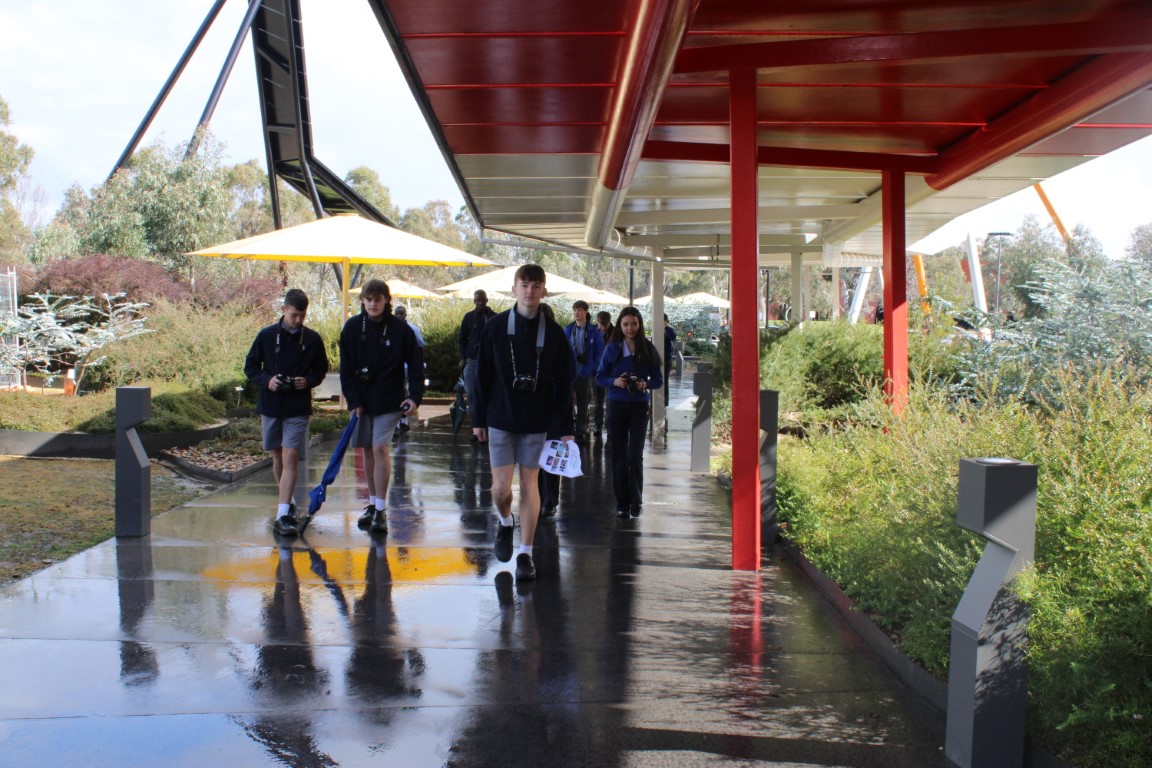 Year 10 Media – Short Narrative Film Production
In Year 10 Media, we will use the techniques and skills developed in Semester 1 to develop and shoot individual short films, writing, planning, shooting and editing a 2-3 minute narrative film to meet a competition level criteria. The skill students developed last semester included recording video, recording separate audio (using boom poles and audio recorders) and also editing in Adobe Premiere Pro.