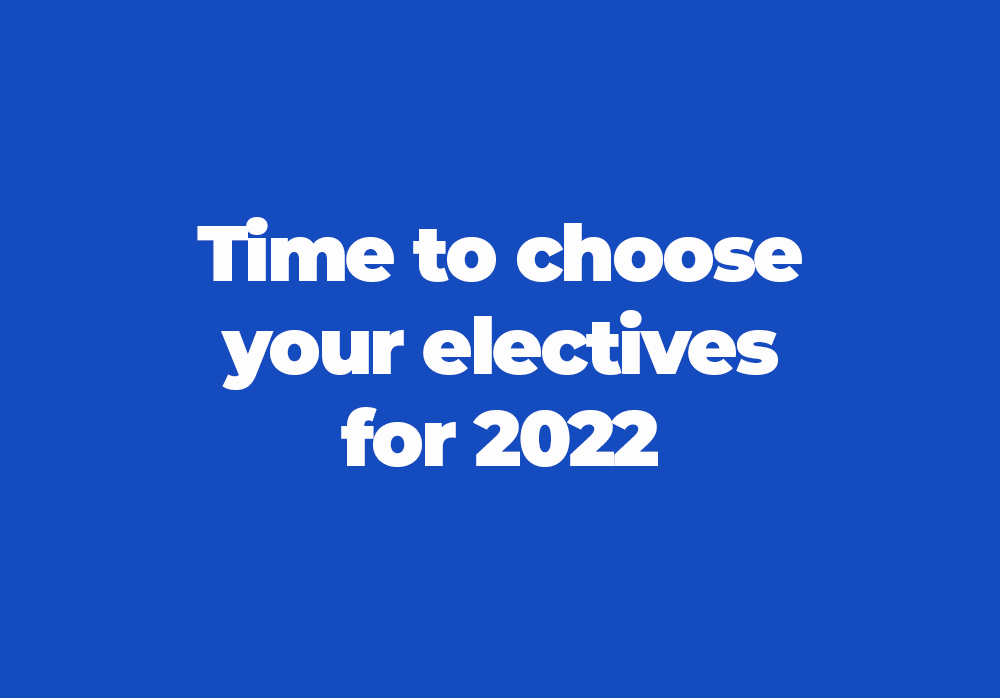 Year 8 & 9 elective selection time
August 19, 2021
Year 8 and 9 students will be invited to select their electives for 2022 from 9.30am Tuesday 24 August until 9am Friday 27 August.
Further details will be provided during Pastoral Care on Tuesday 24 August 2021
2022 Elective Guide
View the Year 9 & 10 Elective Guide for 2022.
Have any questions for your teachers?
Electives teachers will be available to chat on Teams with students to answer any questions about their electives at the following dates and times:
Tuesday August 24 (3.00pm-5.00pm)
DESIGN and TECHNOLOGY
Design and Graphics
Mr Major
3.00pm-3.30pm
Design and Textiles
Mrs Nutt
3.15pm- 3.45pm
Design and Timber
Mr Crafter
3.30pm-4.00pm
Engineering
Mr Stock
3.45pm – 4.15pm
Food Technology
Mrs Givens
4.00pm -.4.30pm
Design and Metal
Mr Woods
4.15pm-4.45pm
Intro to Construction

(yr 10 Only)

Mr Robinson
4.30pm – 5.00pm
Intro to Hospitality

(Yr 10 Only)

Mrs Givens
4.30pm-5.00pm
DIGITAL TECHNOLOGY
Computing Studies
Mr Mackerras
3.00pm-3.30pm
Mechatronics (Robotics)

Yr 9 Only

Mr Crane
3.30pm-4.00pm
Digital Systems in IT

(Yr 10 Only VET)

Mr Elias
4.00pm-4.30pm
Wednesday August 25 (3.00pm – 4.30pm)
LANGUAGES
Italian
Mrs Rodriguez
3.00pm-3.20pm
Japanese
Mrs Bakonji
3.00pm -3.20pm
PE
Sport and Rec
Mrs Stevens
3.20pm-3.40pm
PERFORMING ARTS
Music
Ms Zimple
3.30pm-4.00pm
Drama
Mrs Teasdale
3.30pm-4.00pm
Dance
Mr Kermond
4.00pm-4.30pm
VISUAL ARTS
Media (Yr.10)
Mr Elias
3.00pm-3.30pm
Photography (Yr. 10)
Mrs Marshall
3.30pm-4.00pm
Visual Arts
Mr Wilson
3.15pm-3.45pm
Digital Photography and Media (Yr. 9)
Mrs Marshall
4.00pm-4.30pm
More information on electives for Years 9 and 10 is available here.